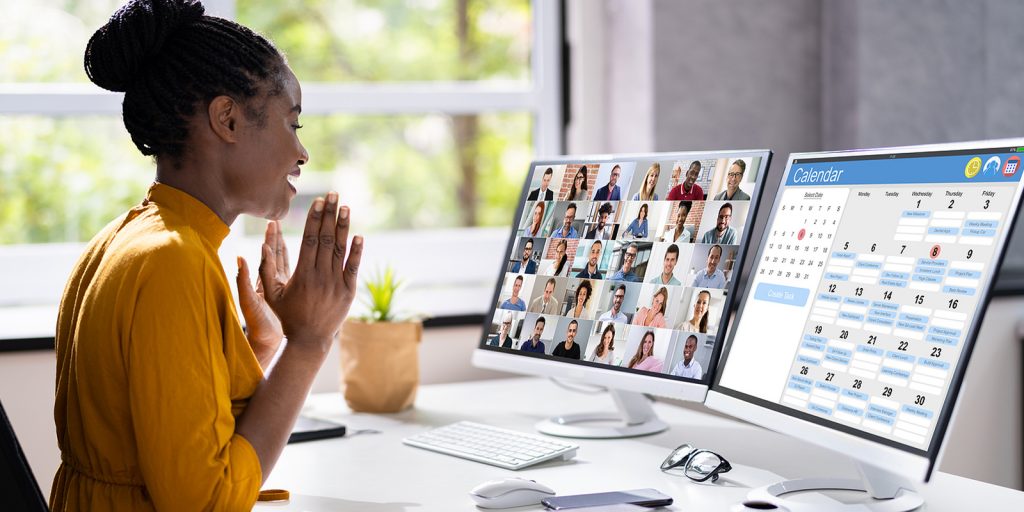 Cyberattacks Possible with Remote Workers: A Guide to Navigating Risk
The past couple of years has seen an unprecedented increase in the number of employees who work remotely. Companies that were once fully office-based have pivoted to operate entirely remotely. One McKinsey study found that 58% of employees work remotely, either on a full-time or part-time basis.
This new flexible working environment has been a positive for many employees––cutting down on commutes and offering improved work-life balance. But for cybersecurity teams, the race to adapt to the changes prompted by the exploding popularity of remote work has been a real challenge.
Remote work, or at the very least hybrid working solutions, are here to stay. It's clear employees can often work just as well from home as they can in an office-based environment. That means IT leaders have to come up with long-term solutions to the cybersecurity challenges posed by remote work.
But what exactly are those challenges, and how can security leaders overcome them? In this guide, we'll review some common remote work attacks that you should be on the lookout for. Then, we'll share measures you can put in place to ensure your organization's remote work policies don't spell disaster for your cybersecurity.
What Are the Cyber Risks to Remote Workers?
When work was done almost entirely in the office, on a secure enterprise network, cybersecurity was a lot more straightforward. Of course, there were still many challenges to navigate, but having all of your employees on the same network made it easier to implement and enforce organization-wide cybersecurity policies.
Now, every single employee might be on their own network: their home WiFi network. These networks lack many of the security features corporate networks have. The result? Employees are much more vulnerable to attacks.
The rapid acceleration of remote work dramatically increased the attack surface that cybersecurity teams have to defend. This continues to expose vulnerabilities in cybersecurity systems not designed for a world where a large percentage of employees work remotely. And at the same time as technical elements of cybersecurity networks were weakened, employees became more susceptible to social engineering attacks.
Risks that security teams should be aware of include:
Phishing attacks
Risks from using public WiFi systems
Use of personal devices and networks
Increasing reliance on cloud-based platforms
These security risks aren't just a hypothetical concern––they're actively contributing to millions of cyber attacks around the world. One report found that working from home increased the frequency of cyberattacks by 238%. That huge rise underscores the risks faced by companies with remote workers.
With such clear downside risks, many organizations have taken steps to improve the security profile of their remote workers. Many of these have been primarily short-term fixes, but it's clear remote work is here to stay. It's now incumbent on cybersecurity leaders to take proactive, long-term measures to address the cybersecurity challenges faced by remote workers.
How Can Organizations Manage the Security of Remote Workers?
It's increasingly apparent that employees will continue to work remotely for years to come––if anything, remote work is only going to become more prevalent as technology continues to advance. In this changing landscape, cybersecurity for remote workers will continue to be top of mind for IT leaders. That's true for all types of businesses: from Small and Midsize Businesses (SMBs) to large enterprises.
Security leaders have two options: stick their heads in the sand and ignore the issue, or take the steps required to transform cybersecurity from a vulnerability into a strength. That means investing in new technology and embracing new best practices that harden your security environment against attackers.
Here are a few steps that organizations can take to upgrade the security of their remote workforce:
Invest in New Security Technologies
Your first step should be to conduct an audit of the current status of your security infrastructure. This audit, also known as a cybersecurity scorecard, gives you the clarity and direction you need to start making progress towards improving your overall cybersecurity stance.
You can let this audit guide you as to which security technologies you should prioritize adding to your infrastructure first. However, one of the most common technologies to adopt for remote workers is Virtual Private Networks (VPNs). VPNs are available in hardware and software forms. They essentially serve as a shield that protects your employees' sensitive data and information from cybercriminals. Using a VPN creates a private, secure network regardless of the WiFi connection your employee is using.
VPNs are just one example of the upgrades you might consider. There are many cybersecurity tools available, and you should do your due diligence before adding any to your existing security infrastructure. Consider upgrading the security of your existing tools as well as investing in new solutions.
Related: 12 Questions to Evaluate the Security of Your Microsoft 365 Tenant
Commit to Employee Security Awareness Training
Your employees are your first line of defense against cyber attacks. They must know how to diagnose and report the early warning signs of a potential security breach. That's especially important for remote employees. These employees are unable to walk down the hall and verify whether their boss really did send that email or whether it was a phishing scam.
Launching a comprehensive security awareness training program is the best way to ensure all employees are aware of their responsibilities and obligations when it comes to cybersecurity. Many programs, including ours at Tech Heads, are offered on-demand online, making it easy for your employees to complete cybersecurity training on their own schedules.
Training programs will typically include modules on areas like password management, phishing emails, and other social engineering attacks. You'll also be able to run simulated tests before and after the training to measure improvements in your employees' practical cybersecurity knowledge.
Update Cybersecurity Policies
If you haven't updated your cybersecurity policies since your employees started working remotely, it's likely they're outdated. Examples of policies you might need to add could include your company's policy on using public WiFi networks (like those at coffee shops and airports), as well as your policy on the usage of personal and company devices.
Ideally, your policies should be mapped to the latest version of the CIS Critical Security Controls. At Tech Heads, we follow a four-step process to creating and updating cybersecurity policies that are built in line with the best practices recommended by the CIS framework.
Conduct a Vulnerability Assessment
The cybersecurity landscape is constantly evolving and it's vital you take steps to ensure your networks are sufficiently protected against the latest threats. It doesn't take much to leave a door open for an attacker to exploit. Often, it's something as trivial as a device that's not been updated or a software patch that's not been applied to a third-party software tool.
Performing regular vulnerability assessments helps your security team catch these issues before potential attackers can take advantage of them. You'll discover critical system gaps that you should address and can then take steps to remedy any issues.
Embrace Security Best Practices
Your security infrastructure should be built according to industry best practices. However, it's not uncommon for many organizations to sacrifice these in favor of building an easier user experience for employees.
One of the areas where that's most evident is Multi-Factor Authentication (MFA). Many organizations neglect to implement MFA as it can add friction to the sign-in process for employees. However, implemented right, it's a simple fix that will eliminate up to 99.9% of account breaches, according to Microsoft while having a minimal impact on user experience.
Work with a Managed Cybersecurity Service Provider Like Tech Heads
If you're looking to outsource your strategy and day-to-day operations of your entire cybersecurity infrastructure, a managed cybersecurity service such as Tech Heads could be a great fit.
Our team of experienced cybersecurity consultants has a proven track record working with SMBs across the Pacific Northwest. Interested in learning more about working with us? Get started now.