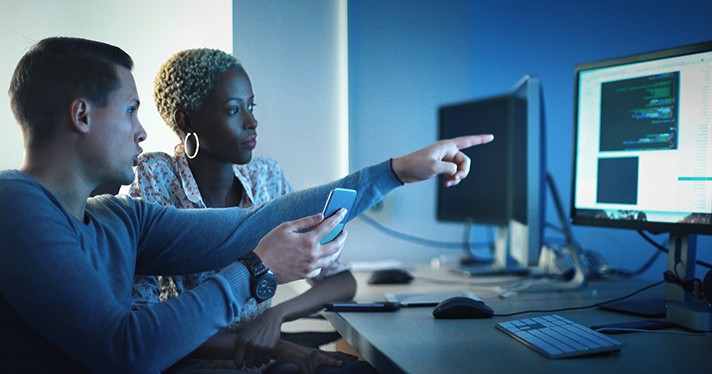 Cloud Security Monitoring: What To Monitor and How Much Time You Should Spend On It
Today, practically every company and organization leverages the power of cloud computing in some way. Whether that's through working together in real-time using Microsoft Office 365 or staying connected using a communications tool like Zoom, there's no doubt that cloud platforms are central to the way we work today.
The popularity of cloud-based software platforms has exploded in recent years, particularly as more and more companies have embraced remote and hybrid working environments. These cloud platforms bring great efficiencies to businesses, making it easy for employees to collaborate and work together seamlessly regardless of where they're based.
But while these tools can be a major unlock for day-to-day activities, they present a new range of challenges that security teams must stay ahead of. In the past, security teams were responsible for protecting on-premise systems, typically located in offices and other fixed workplaces. With the growing popularity of remote work, security teams are now tasked with protecting a huge universe of devices, networks, applications, and more.
Attackers are aware of the challenges that security teams are facing and are actively targeting cloud-based environments to exploit organizations. One study found that 79% of organizations have suffered at least one cloud-based data breach in the past year – highlighting the importance of taking steps to protect your firm's cloud environment.
Effectively securing your business's cloud-based environment demands a different approach to cybersecurity than the one many businesses have adopted in the past. A fundamental component of that?
Cloud security monitoring.
But what exactly is cloud security monitoring? What do these tools monitor, and how much time can you expect your security team to spend on cloud security monitoring? Today, we're answering those questions and more. Read on to learn all about the importance of cloud security monitoring and the role it should play in keeping your business's data secure.
Cloud Security Risks
Switching your organization's system architecture from a centralized, on-premise approach to a wide-ranging cloud environment is far from easy. In 2020, many organizations were forced into making these changes overnight: a near-impossible task that had I.T. and security teams worldwide scrambling.
While things are calmer today, many businesses lack sufficient protection against some of the most common cloud security risks. These include:
Misconfigured Security Controls

: many organizations have cloud environments composed of several different cloud service providers. Each of these services comes with its security configurations. Unfortunately, these security configurations are often misaligned, leaving significant security gaps in an organization's cloud environment.

Increased Attack Surface

: as organizations continue to add new cloud services, their attack surface grows. Over time, as more and more microservices are added, this can become unmanageable for the security team.

Data Breaches:

one of the key benefits of cloud applications is the ease with which employees can share data and collaborate. Unfortunately, that also makes it easy for them to unwittingly share data with attackers. Robust cybersecurity awareness training can help stem this issue, but underlying system vulnerabilities must also be addressed.

Proactively addressing these risks before an attack occurs is vital to building a strong cybersecurity infrastructure. Cloud security monitoring is a major element of that.
What is Cloud Security Monitoring?
Cloud security monitoring is part of the wider field of cloud security management. When an organization embraces cloud security monitoring, it commits to constantly scanning its cloud environment for signs of threats, vulnerabilities, or security incidents.
This is typically achieved by using a cloud security monitoring technology that automates the monitoring of various elements of an organization's cloud infrastructure, including servers, applications, and other software tools. These solutions are either built into cloud server hosting platforms or are third-party solutions that can be integrated with existing infrastructure.
Key Areas of Cloud Security Monitoring
Cloud security technologies monitor all activity on an organization's cloud infrastructure, constantly logging data and searching for anomalies. If anomalous data is detected, then security teams will receive an alert and begin the incident response process.
The majority of cloud security monitoring tools track several key areas. These include:
Application Data

: every cloud application your business uses, from

Microsoft Office 365

to your accounting software, produces data that should be tracked by cybersecurity tools.

User Data

: monitoring user data enables your security team to quickly identify incidents involving access management, account takeovers, or malicious employee behavior.

File Behavior

: by tracking traffic on your business's servers, you can quickly flag malware and

ransomware attacks

.
As you assess cloud security monitoring solutions, there are a few qualities that you should prioritize. Any cloud environment, even in a small business, produces a lot of data. Effectively monitoring all of this data requires a sophisticated approach to cloud security monitoring with the capacity to handle significant scale.
It's also crucial that the solution you choose for your business has the ability to scan and provide updates in real-time. While frequent auditing has a place in cloud security monitoring, it's vital that your security team is alerted of potential security incidents as soon as they occur – not days later. This gives your team the best chance possible to contain and respond to any breaches before they have a wide-reaching impact across your entire I.T. infrastructure.
Choosing a solution that offers flexibility is also vital to promoting higher levels of cloud security. If your security team currently uses a Security Incident and Event Manager (SIEM) tool, make sure that any cloud security solution integrates with this to enable streamlined incident response. To ensure optimal performance, it's also beneficial if your cloud security monitoring solution integrates with other elements of your cybersecurity stack, including endpoint solutions and identity and authentication services.
How Much Time Should You Spend on Cloud Security Monitoring?
If you handle cloud security monitoring internally, you may have to dedicate significant time and resources to selecting and implementing the right tool for your organization. There are additional resource requirements in terms of employee training too. The good news is that after this initial set-up process, ongoing management is largely automated.
However, in addition to continuous cloud security monitoring, experts also recommend that businesses commit to conducting periodic security audits on their cloud environments. These adults should also be completed when the environment significantly changes: such as through the addition of new infrastructure or an increase in usage due to the growth of your business.
These audits can be time-consuming, particularly for internal IT teams who typically lack the cybersecurity expertise to complete an in-depth analysis of your cloud infrastructure. In these instances, it can often be better to outsource your cloud security monitoring to a third-party provider. These external vendors bring a tried-and-tested security architecture and sophisticated skillset to ensure your cloud computing environment remains secure.
Outsourced Cloud Security Monitoring with Tech Heads
While practically every business has made strides toward the cloud in recent years, only some businesses have made the same progress on cloud security. That's particularly true for Small and Midsize Businesses (SMBs), which often lack the resources to staff and run an effective internal security team.
If that sounds familiar to you, there's no need to panic. Many SMBs outsource their entire cybersecurity infrastructure, including cloud security monitoring, to an external Managed Cybersecurity Service Provider like Tech Heads.
At Tech Heads, we're passionate about helping businesses like yours turn cybersecurity from a concern into a source of competitive advantage. Our expert team is backed by decades of experience in the cybersecurity industry and uses a purpose-built approach to provide your business with the cybersecurity it needs to be successful.

Interested in learning more about how Tech Heads can support your cloud security monitoring? Get started today.